February 5, 2016. I couldn't decide which was Better. So I'm doing both. Walking and Eating my Way through San Francisco. All the Better to prepare myself for the big game. I'll never win a Super Bowl but I'm a real contender on the Walking & Eating circuit. With the perfectly balanced diet of champions: burn as many calories as you consume while you sightsee and taste the town.
Actually, if you do this whole 8-hour, 16-mile Walk you'll burn Way more calories than you swallow. Like I did on the Highline Trail in Glacier National Park. Thirteen miles, steep uphill all the Way. Which got me thinking about day-hike calorie burning. Because there are lots of ways to burn hundreds of calories per hour. But when you multiply that times 8 hours, you're burning thousands of calories. More than you can eat in a day.
I know a 16-mile walk sounds like a lot. Because it's unknown territory if you've never walked that far before. Eight hours sounds a little better, because it's familiar. A day's work. If you've never hoped to spend the whole day walking, well, think of this as a whole day of eating with beautiful walks between meals.
You can do this anywhere. You may not get the spectacular natural terrain of Glacier National Park. But you get something you don't find in the park: good restaurants. And you have the option of bailing out halfway along the Way, without having to spend the night in the forest. If 16 miles is just too much, I'll suggest some logical places to grab a ride back to our scenic and tasty trail head. Let's go.
From Farmers Market to Stairs
Start the morning with a .3-mile stroll around the Ferry Building Farmers Market and shops. Locally grown fruits and vegetables, locally made cheese and bread and chocolate. Amazing peach turnovers at Frog Hollow Farms. Killer cornbread at Boulette's Larder. Then hit the sidewalk for a flat 1-mile stretch along the waterfront. To the very beautiful Filbert Street stairs: 300 feet straight up, to the top of Telegraph Hill for a spectacular 360-degree view. Great place for your Farmers Market breakfast if you haven't already eaten it. Now back down the other side into the heart of North Beach, San Francisco's Little Italy. About 1.75 miles and 40 minutes, not including your breakfast stop. To see every step of the Way and every place to eat in or take out, click for my big 3D Google Map.
From The Crooked Street to the Marina
Now it's time for your second San Francisco hill climb. Up the sharp "switchbacks" of Lombard Street. Stay on the sidewalk; sightseeing drivers are coming down the hill. Then cut over to Union Street and continue west to Laguna. Hook a right and head for the water. All the way to Fort Mason, right on the Bay. It's a gentle slope back down to sea level and to Greens, a great restaurant with a vegetarian menu. Greens To Go is great if you didn't stock up at the Farmers Market. You're only 75 minutes and a little over three miles into The Walk here, so it's not mealtime unless you skipped the Farmers Market breakfast.
From Bay to more Stairs
The next leg of the Walk runs 1.3 miles along the Marina, then inland to the beautiful and fascinating Exploratium and Palace of Fine Arts. Take a spin around the lake before you make your way, carefully, across Richardson Avenue to Lyon Street. About 30 minutes.
Now it's time for the urban mountain ascent: .75 miles up the Lyon Street stairs at an average incline of 12%. The Presidio's on your right all the way. At Green Street, the road ends and you take an impressive flight of stairs up to Vallejo Street; then another flight up to Broadway. One more block to Pacific at the southeast corner of the magnificent Presidio park. 15 – 20 minutes; breathe deeply. You'll burn about twice as many calories per minute on this incline as you would on a flat surface.
From The Presido to The Bridge to The Beach
From here you'll wind your way back down to sea level. A little more than 2 miles through The Presidio, a 1,500-acre National Historic Landmark. A mountainside planted with thousands of eucalyptus and cypress trees. About an hour, with views of the Pacific, the Bay and the Golden Gate Bridge that will slow you down.
Another 15 minutes and .6 miles right along the shoreline, then up some really steep stairs and under the Golden Gate Bridge. Spectacular views while you walk along the top of a sheer cliff (the footpath is safe and well-traveled) and gradually descend to Baker Beach. You're on the sand, the hills of Marin are across the Bay and you're 8 miles and three plus hours into it. Picnic!
China Beach to Golden Gate Park
With the Pacific Ocean on your right, it's 1.5 miles to China Beach. 2 more past Land's End and the Seal Rocks to Point Lobos. And 1 more through Sutro Heights Park to the northwest corner of Golden Gate Park. This is pretty spectacular scenery. Two beautiful hours to cover this 4.5-mile stretch.
Now you make your way back to the east, 4 miles across the 1,000 acres of Golden Gate Park and the Panhandle. Between the Conservatory of Flowers, the De Young Museum, the Academy of Sciences and the Bison Paddock, you could spend a week or two here. If you keep moving, you'll be here for the last 90 minutes of your 8-hour Walk.
The Eating
If pizza sounds like the right Way to cross the finish line, Little Star Pizza (846 Divisadero St between Fulton & McAllister) is less than 10 minutes from the east end of the Panhandle. Get the deep-dish Little Star (spinach, ricotta, feta, onion, garlic). Alternatively, Pizzetta 211 (211 23rd Ave. at California St.) is a longer walk, but it puts you reasonably near the California line Cable Car for a classic ride back to the starting line. Try any of the weekly specials or the ever-present Rosemary-Fiore Sardo Cheese-Pine Nuts pizza. Good cheese salad, too.
If you decide to do the Walk in reverse (that is, start in Golden Gate Park and finish at the Ferry Building) you can stop into Tony's Pizza Napoletana (1570 Stockton Street at Union) for a classic from a master pizzaiolo with 4, count 'em, 4 different brick ovens. (Get the Margherita from the 900-degree wood-fired oven. There's a reason it won the 2007 World Pizza Cup in Naples.) And if you take The Walk in reverse on a Sunday, you can start the day at the Divisadero Farmers Market (Divisadero & Grove Streets), 4 short blocks from the eastern end of the Panhandle.
A Little Out of the Way
Check the big 3D Google Map I made for you for more eating recommendations and locations. Like Betel Nut's light, spicy Green Papaya Slaw Salad. The BBQ Pork Buns and Pea Tips & Shrimp steamed dumplings at Ton Kiang. And everything at Da Flora, Cotogna and Flour + Water.
Home via Public Transportation
If you do the whole Walk, take the SF Muni Light Rail "N" Line to the Metro Embarcadero stop, a couple of blocks from our start point. $2 for adults; children free; seniors & "youths" $.75. About 20 minutes, depending where you get on, anywhere along Judah Street (2 blocks south of and parallel with Golden Gate Park and The Panhandle.)
If you do the 5-mile Walk to the Palace of Fine Arts, you can take Muni Bus #30 to Market and 4th Streets.
And there's a Way home if you just want the 2-hour Walk That Nibbled San Francisco. Here are two ways to get home early: At Union & Laguna Streets (2.8 miles from start), turn left on Laguna and walk up, up, up to Clay Street, then down, down to California Street. This will add .6 miles (most at a 9% incline) to your Walk and burn about 150 calories. Then turn left at California Street and walk 4 blocks to Van Ness where you can hop on the California Street Cable Car for a classic 10-minute ride to the end of the line. $5
Need To Know
Where to find public bathrooms along the Way.

For the Virtual Walk that convinces you to try the real thing, click to see the big 3D Google Map I made for you.
Everyday Greens: Home Cooking from the Celebrated Vegetarian Restaurant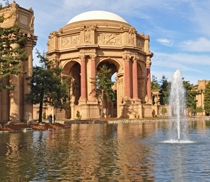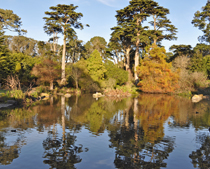 Cost-Benefit Analysis.
Free walking, cheap eating. The immediate benefit: a great day. Making exercise a habit gives you the long-term benefit of great health.
Let's Do The Math
A brisk 30-min steep-incline walking workout will burn about 300 calories; an hour will burn 600. If you do this a few times a week, you've got a good routine going. Take an all-day walk like today's and you'll have a blast, eat great stuff and burn nearly 3,000 calories along the Way.
Every Thing Is Everything
"… modest levels of physical exercise during middle age increased the probability of successful aging beyond 70 years … [reducing] osteoarthritis, falls and hip fracture, cardiovascular disease, respiratory diseases, cancer, obesity, diabetes…" Evidence Regarding the Benefits of Physical Exercise, Archives of Internal Medicine